Turner Veterinary Clinic News
2017-01-30
Between work, family responsibilities, and caring for your home, you have precious little time to add another errand to the list. However, you can't very well let your cat run out of specialty food or your dog go without needed medication. When you shop with MyVetStoreOnline through Turner Veterinary Clinic, you don't have to take time out of your already busy schedule to get your pet the things he or she needs. You can set up an account in less than a minute and then order from one or several of the following product categories:

Cat Food
Dog Food
Horses
Small Mammals
Flea and Tick
Heartworm
Medications
Easy Dose It! (Single doses of medication)
Supplements
Dental
Eye and Ear
Joint
Skin and Coat
Supplies
Gifts

How to Register for Your MyVetStoreOnline Account and Place an Order
To sign up for an account, click here to go the registration page. Once there, you just need to enter your name, email and mailing addresses, and your telephone number. You can also record your pet's name and species for future reference. That's all there is to the registration process.

You can start shopping for pet products immediately by navigating to the All Products tab. This brings you the list of the 15 top-level categories listed above. When you click on the product category, you will see several sub-categories that make it even easier to find the specific items you need. Just click on the name of the item you're interested in to see more details about it. For example, the listing for Royal Canin Cat Food gives a description, feeding instructions, and ingredients.

You can add items to your cart as you go and then click the Check Out tab when you're ready to finalize your order. The system displays shipping costs and any applicable sales tax before requesting your payment information.

After You Place Your Order
Before MyVetStoreOnline can ship your order, it must go to Dr. Huelsbergen for approval. This is to ensure your pet's safety. He will contact you with any questions or concerns about the products you ordered for your pet if necessary. It then takes three to five business days after his approval for MyVetStoreOnline to ship your order. All orders over $38 ship free via UPS. You also have the option of requesting Next Day Air on most orders. Refrigerated items ship by Next Day Air automatically.

Turner Veterinary Clinic is happy to offer this online shopping option as a convenience to our valued clients.

Categories
Recent Posts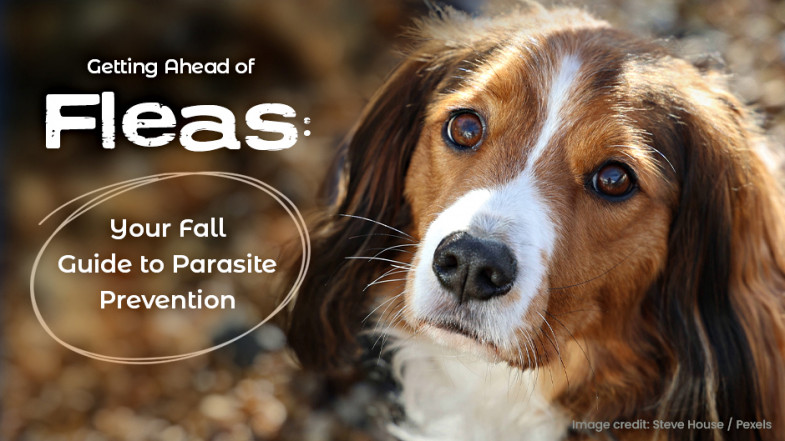 Getting Ahead of Fleas: Your Fall Guide to Parasite Prevention
As pet owners, we can attest that flea infestation can not only be annoying but also extremely dangerous to our pets. Fleas can cause severe skin irritation, anemia, and even transmit deadly diseases. As we approach the fall season, it's essential to be proactive in preventing fleas before they become a problem. In this article, we will discuss the flea life cycle, the dangers of fleas infesting your pet, signs to look out for, the benefits of flea prevention, and why you should purchase flea prevention medication from us, your trusted veterinarian.
Read More