Turner Veterinary Clinic News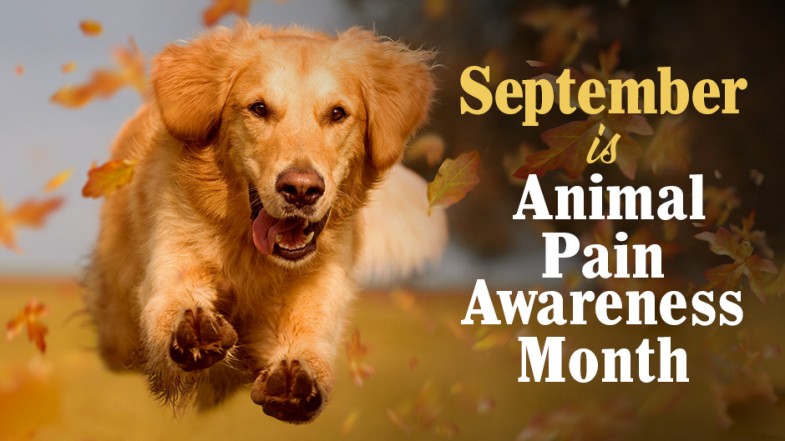 2019-09-06
Nothing hurts pet parents more than believing their pet is in pain. And we can't blame them. It's hard to know exactly how much pain or discomfort our lovable pets may be in since they can't ask for aspirin or show us where it hurts.
We love that September is dedicated to taking a closer look at pet pain and finding ways to improve the lives of all animals.1
What Is Pain Like for Our Pets?
Pain is complex. But we know that animals, large and small, experience pain in a similar way to us. While their emotional reactions and sensitivity may differ, the physical process that creates the pain sensation is similar in most mammals.
Turkeys, raptors, parrots, and chickens express distress from pain. Studies of birds demonstrate that they're not immune to pain. Even fish feel pain!2
What Can You Do to Help Your Pet Cope with and Manage Pain?
Enough about how our pets feel pain… And more about how we can help them feel better! All pets, just like us, have different thresholds for how their pain affects them. We've seen dogs with broken legs wagging their tails like there's no tomorrow and other dogs that limp and cry out after putting any weight on a toe with an ant bite.
The good news is that no matter how much your pet's acute or chronic pain bothers them, there are ways to help them feel better.
Helping Your Pet Overcome Pain
1. Recognizing Your Pet is in Pain
The first step to help your sweet bundle of joy feel better is to recognize they are in pain. How else would you know to find solutions if you didn't realize your pet is feeling less-than-perfect?
Signs of Pet Pain
Not all pets will express they're in pain the same way. Cats are especially Houdinis when it comes to making symptoms of pain disappear. But some common signs of pain include:
Becoming withdrawn or hiding more
Change in sleeping and eating habits
Vocalizing more
Grooming, grooming, and grooming some more. This can be pinpointed in the area causing pain (like the feet when a dog has grass allergies or arthritis).
Panting and irregular breathing
Trouble getting around
Agitation and aggression
Shaking and shivering
2. Nutritional Supplements and Nutraceuticals
Nutraceuticals may sound like a foreign language, but these are just simple compounds found in foods and plants. They can do wonders for pets struggling with cancer and joint-related pain.
How do they work? They often reduce inflammation and relubricate joints.
Not just for dogs and cats: they work for reptiles and birds!
3. Who Needs Laser Tag When You Have Laser Therapy?
Your senior pup or cat might actually be up for a game of laser tag after their cold laser therapy. Laser therapy can assist your pet to heal from chronic or acute pain without an invasive procedure.
And dogs often love the experience! Most relax as if they're at the spa and come in for their next session with their tails wagging because their last treatment helped them feel better.
How does it work?
Your pet lies or stands on a bed or mat. And the cold laser uses a concentration of light to promote cell regeneration and increased blood flow. And the process releases endorphins in your pet's brain, making them feel comfy and content.
4. Acupuncture Will Help Alleviate the Pin Pricks of Pain
Acupuncture may sound 'out there,' but it works! This treatment effectively reduces pain for young, adult, and senior pets. This practice is exceptionally beneficial for pets suffering from chronic pain.
How does it work?
The tiny pin-pricks trigger your pet's brain to release its own endorphins and anti-inflammatory chemicals. The minuscule pokes encourage blood flow and increase oxygen. The blood and oxygen wash toxins away from the inside. The needles don't just relieve pain in the area they're placed, results show that dogs and cats experience less pain all over.
Hot lasers in tiny pinpoints offer the same healing effect of traditional acupuncture and can be less cumbersome when it comes to wiggly dogs and cats.
5. Keep Those Teeth Healthy
One source of pain that is often overlooked is oral discomfort. Dogs, cats, and other pets can feel terrible when their teeth aren't healthy. From infection to receding gums, dental problems can cause your pet pain as they eat, drink, and even play.
Come in for a checkup. We'll take a look at those chompers. We can even clean up that smile and extract any problem teeth.
Don't Let Your Pet Live with Pain
Your pet depends on you for the quality of life they deserve. There are are some of simple day-to-day things you do can help to keep the pain away. Keep your dog or cat at a healthy weight to reduce joint issues. exercise daily, and provide your pet with a quality diet.
Don't let pain become a pain in your pup! If you have questions about these techniques or any other strategies we can help with, give us a call.
1 https://www.iflscience.com/plants-and-animals/do-animals-feel-pain-we-do/
2 https://www.smithsonianmag.com/science-nature/fish-feel-pain-180967764/
Image credit: Leoba / iStock / Getty Images Plus
Categories
Recent Posts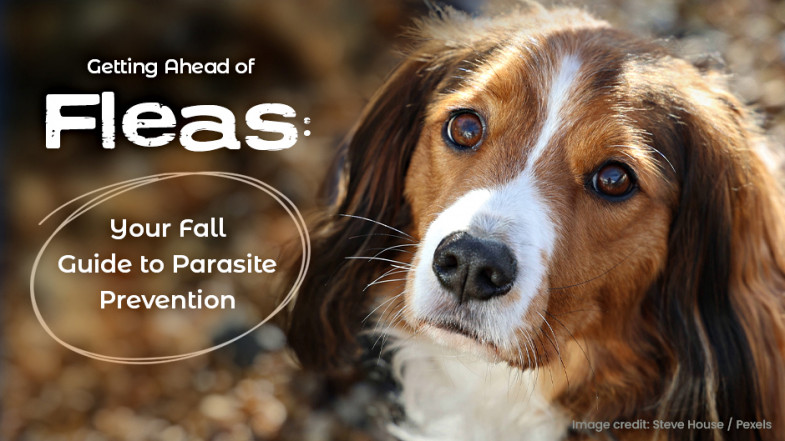 Getting Ahead of Fleas: Your Fall Guide to Parasite Prevention
As pet owners, we can attest that flea infestation can not only be annoying but also extremely dangerous to our pets. Fleas can cause severe skin irritation, anemia, and even transmit deadly diseases. As we approach the fall season, it's essential to be proactive in preventing fleas before they become a problem. In this article, we will discuss the flea life cycle, the dangers of fleas infesting your pet, signs to look out for, the benefits of flea prevention, and why you should purchase flea prevention medication from us, your trusted veterinarian.
Read More